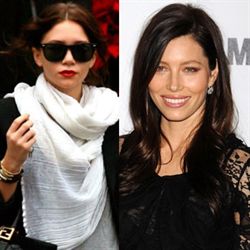 Fashion trends play starring roles when it comes to haircolor. Both Ashley Olsen and Jessica Biel made a splash recently when they ditched their basic blond strands in favor of sultry chocolate hues. These ladies have a penchant for constantly changing up their color; they've both been blonde, red, even neon, but the switch to these rich brunette shades reinforces the rule that this fall, the trend is all about going bold. Top editorial stylist Bradley Irion says to look to the fall runways and ad campaigns and you'll find plenty of inspiration for updating your color from ho-hum to huh-mazing.
For fall, most top designers kept clothing simple, Bradley says. In general, they opted for classic, monochromatic color schemes distinct switch from summer's brights and florals. Fashion-forward individuals will definitely embrace these new styles, so it's up to you to ensure that your haircolor isn't living in the past.
When it comes to blondes, "Stripy highlights are on their way out," declares Bradley. A better strategy, he suggests, is to soften the base color and then add a few highlights using a very natural placement. With brunettes, A rich, solid brunette with integrity is my favorite shade for fall. Think rich, warm sable and dark milk chocolate, he advises. For redheads, avoid dusty-looking, flat color. "Redheads need to be fiery, shiny and rich this fall," says Bradley.
Whatever your haircolor choice for the season, make it bold and keep it fresh!